---
Board of Trustees
The governing body of the college is appointed by the Governor from citizenry of Calvert, Charles, and St. Mary's counties. The board consists of nine members, each given a five-year term of office. More information is available online at www.csmd.edu/about/leadership/board-of-trustees.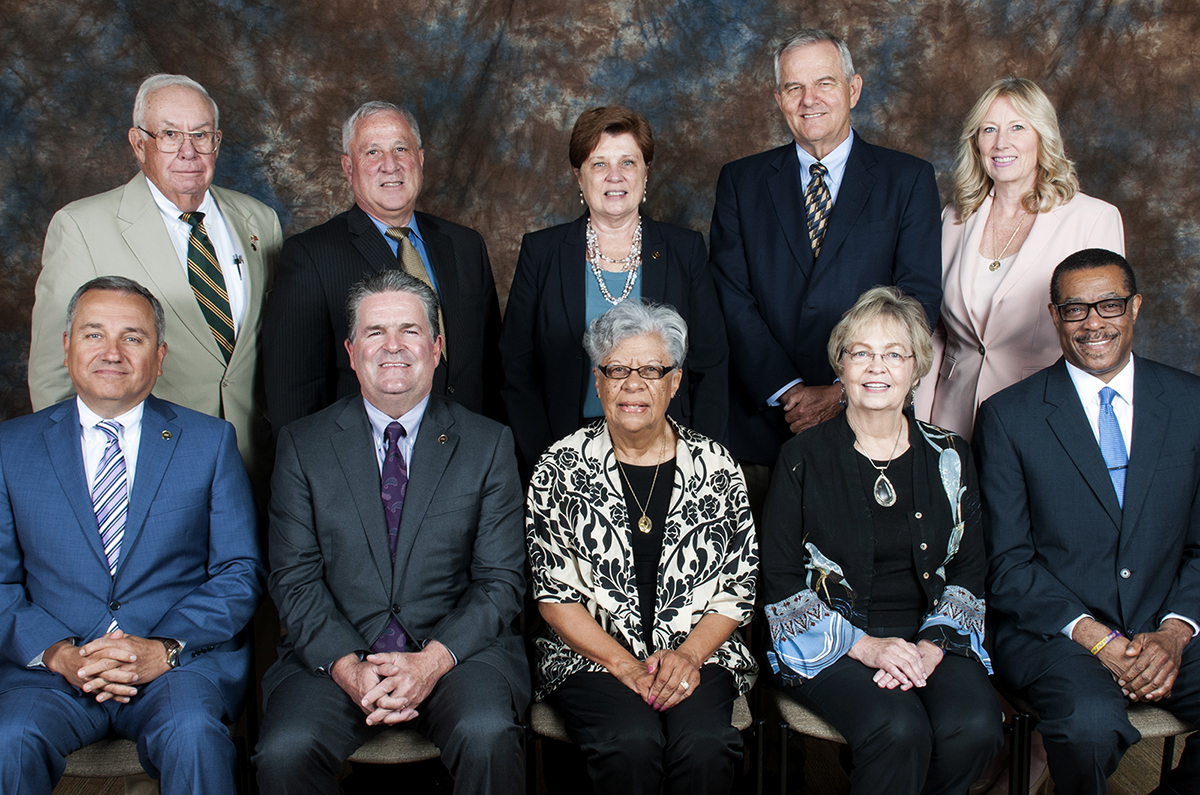 Mr. Theodore L. Harwood II, Chair
Mr. Bradley O. Bates, Vice Chair
Dr. Maureen Murphy, President and Secretary/Treasurer
Mr. Shawn Coates
Mr. James Di Misa

 

Ms. Lois E. DiNatale
Ms. Margaret C. Dunkle
Mr. Samuel C. Jones 
Dr. John W. Roache
Mr. Jay W. Webster  
Faculty, Staff, and Administration
As of February 26, 2018
This listing reflects the college's organizational structure prior to July 1, 2018.  An updated Faculty, Staff, and Adminsitration listing will be available this fall.
*Award recipient of the Annual Faculty Excellence Award
Office of the President

Murphy, Maureen,
President
BA,  University of Louisville
MA, University of Missouri
PhD, St. Louis University

Yellman, Kimberly A.,
Lead Executive Assistant to the President and Board of Trustees
BA, University of South Carolina

Buckler, Sharon M.,
Administrative Assistant

Entrepreneur and Innovation Institute

Luginbill, Thomas J.,
Director
BS, University of Delaware
MBA, University of Maryland

Institutional Equity and Diversity Office

Phelps, Carmen L.,
Executive Director

Diversity Institute

Fenner, Timothy R.,
Coordinator
MPA, University of Akron

Charles County Mediation Center

Walton, Julie A.,
Director
BA,  Florida International University

Hansen, Jean-Marie H.,
Program Assistant, part-time
BS, Northern State University
MA,  Trinity Washington University

Jones, Jade A.,
Office Administrator

Planning, Institutional Effectiveness, and Research

McMurray, Kelly,
Associate Vice President
MS, North Carolina Agricultural and Technical State University
PHD, Georgia State University

Keech, Roland L.,
Senior Associate Director
BS, University of Maryland

Williams, Stefon C.,
Research Analyst

Marshall, Katherine M.,
Lead Institutional Research Analyst
AA, College of Southern Maryland

Nonprofit Institute

Fogarty, Cara A.,
Charles County Non-Profit Institute, Coordinator
BS, State University of New York College at Oneonta
MA, Ohio State University

Yaffe, Harriet S.,
St. Mary's Non-Profite Institute, Coordinator
MA, University of Maryland

Division of Academic Affairs

Abel, Eileen D.,
Vice President
MA, University of Tennessee
PHD, University of Tennessee

Farinelli, Robert A.,
Associate Vice President
BS, Pennsylvania State University
MA, University of Pittsburgh

Whitt, Dorothy L.,
Executive Assistant to the Vice President
AAS, College of Southern Maryland

Warren, Lisa R.,
Career and Technology Education Coordinator, part-time
BS, Towson University
MA, Bowie State University

Carney, Amy E.,
Academic Programs Coordinator
BS, Michigan State University

Jones, Shadei E.,
Pre-Engineering Program Coordinator
BS, Virginia State University

Academic Planning and Assessment

Cooley, Cami S.,
Director
BS, Towson University

Wilbert, Erica R.,
Student Success and Assessment Specialist, part-time

Biological and Physical Sciences

Russ, Jean M.,
Chair, Professor
BS, State University of New York At Buffalo
MPA, Kutztown University of Pennsylvania

Houchin, Jennifer E.,
Administrative Assistant
AAS, College of Southern Maryland

Billeter, Paul A.,
Professor
BA, Hofstra University
MA, Hofstra University

Bolton, Margaret A.,
Professor
BA, St Mary's College of Maryland
MS, University of Virginia

Coggins, Turner R.,
Professor
BS, Morehouse College
MS, North Carolina Central University

Jordan, Terry L.,
Lead Lab Coordinator
AA, College of Southern Maryland
BA, St Mary's College of Maryland

Kraus, George F.,
Professor
BA, William Paterson University of New Jersey
MS, Rutgers, The State University of New Jersey
PHD, University of Maryland

Lauber, Kathleen P.,
Professor
BS, University of Maryland
MS, University of Maryland

Shelton, Valerie M.,
Assistant Professor
BA, Gustavus Adolphus College
MA, State University of New York At Buffalo
MS, University of Chicago
PHD, University of Chicago

Smith-Douglas, Sharon A.,
Professor
BS, Western Carolina University
MAED, Western Carolina University

Trusty, Penny A.,
Lab Technician, part-time
AA, College of Southern Maryland

Business and Technology

Brezina, Bernice D.,
Chair, Professor
AA, College of Southern Maryland
BSME, University of Maryland
MS, University of Maryland

Andrews-Walker, Julie C.,
Administrative Assistant
AA, College of Southern Maryland
BS, University of Maryland University College
MBA, University of Maryland University College

Abdul-Karim, Barbara D.,
Associate Professor
DA, George Mason University

Bailey, Stacie L.,
Instructor
AAS, College of Southern Maryland
BS, Liberty University
MS, Liberty University

Green, Michael R.,
Professor
BA, New York University
MA, American University

Hall, Rhonda M.,
Assistant Professor
BS, Salisbury University
MBA, Salisbury University

Hayes, Wendy H.,
Professor
BA, Chadron State College
MA, Chadron State College

Hernandez Christian, Armando J.,
Assistant Professor
AAS, College of Southern Maryland
AS, College of Southern Maryland
BA, St Mary's College of Maryland
MAT, St Mary's College of Maryland

Jacobs, Ronda L.,
Assistant Professor
AAS, College of Southern Maryland
BS, University of Maryland
MA, University of Phoenix

McNicholas, James B.,
Assistant Professor
AA, College of Southern Maryland
BS, University of Maryland University College
MBA, University of Maryland University College
MS, University of Maryland University College

Powell, Daphne A.,
Professor
BS, Frostburg State University
MS, Towson University

Stout, Anthony W.,
Instructor
BS, University of Maryland University College
 

Wenner, Gemma A.,
Associate Professor

Whalen, Edward R.,
Professor
BS, Saint Johns University
MS, Johns Hopkins University
MPA, American University

Wilson, John S.,
Professor
AAS, College of Southern Maryland
BA, Southern Illinois University
MA, Naval Postgraduate School

Communications, Arts, and Humanities

Johnson, Stephen S.,
Chair, Professor
BA, University of Southern Maine
MM, State University of New York at Potsdam
PHD, University of Connecticut

Simmonds, Markia J.,
Administrative Assistant
BS, Florida Memorial University
MBA, Ashford University

Areke, Olaniyi O.,
Associate Professor
BA, Howard University
MFA, Howard University

Arnold-Lourie, Christine M.,
Professor
BA, George Washington University
MPHIL, George Washington University
PHD, University of Maryland College Park

Bedell, George S.,
Professor
BFA, Georgia State University
MFA, Florida State University

Bilsker, Richard L.,
Professor
AA, Broward Community College
BA, Florida Atlantic University
PHD, Florida State University

Fain, Cicero M.,
Associate Professor
BA, University of Hawaii At Manoa
MED, George Mason University
MA, Ohio State University
PHD, Ohio State University

Pichaske, Lindsay E.,
Assistant Professor
BFA, University of North Carolina At Chapel Hill
MFA, University of Colorado At Boulder

Sifers, Katherine M.,
Associate Professor
AAS, Ohio Institute of Photography and Technology
BFA, Columbia College Chicago
MFA, George Washington University

Simpson, Michelle,
Professor
BA, Point Park College
MA, Eastern Michigan University

Stevens, Erika L.,
Professor
MA, Norfolk State University

Timmermann, Erin M.,
Ticket and Events Sales Specialist, part-time

Wodzianski, Andrew K.,
Professor
BA, Edinboro University of Pennsylvania
MFA, Maryland Institute College of Art

Theatre

Hight, Keith,
Associate Professor
BA, University of North Carolina at Pembroke
MFA, Virginia Commonwealth University
MED, Lesley College

Braun, Erik E.,
Assistant Theatre Technical Director, part-time
BS, Frostburg State University

Distance Learning and Faculty Development

Morris, Daphne A.,
Chair, Professor
BA, University of Richmond
JD, Catholic University of America

Stevens, Kristy L.,
Academic Support Specialist

Patterson, Keisha N.,
Instructional Designer
BS, Frostburg State University

Kinison, Joel H.,
Lead Instructional Technology Coordinator
AAS, College of Southern Maryland

Robbs, Wesley L.,
Instructional Technology Assistant
AA, College of Southern Maryland

Health Sciences

Polk, Laura V.,
Chair, Professor
BSN, Georgetown University
MSN, Catholic University of America
PHD, Catholic University of America

Conward, Patricia S.,
Administrative Assistant

Harris, Charlene B.,
Office Assistant, part-time

Baker, Sharon A.,
Assistant Professor
BS, University of Maryland
MS, Walden University

Bonham, Janice A.,
Professor
BSN, East Central University
MS, Oklahoma State University

Cano, Sara I.,
Professor
BSN, University of Puerto Rico
MSN, University of Phoenix

Combs, Caroline H.,
Assistant Professor
AAS, College of Southern Maryland
AS, College of Southern Maryland
MS, Walden University

Denison, Stephanie P.,
Assistant Professor
BSN, University of North Carolina At Charlotte
MSN, University of Texas

Gill, Tiffany B.,
Associate Professor
BA, Immaculata University
MA, Ashford University

Gonzalez, Lisa I.,
Associate Professor
MS, College of Notre Dame

Goodman, Linda C.,
Associate Professor
BSN, University of Phoenix
MS, Stevenson University

Hamel, Linda G.,
Assistant Professor
BSN, Catholic University of America
BA, Oberlin College
MSN, University of Pennsylvania

Hume, Candace W.,
Assistant Professor
BS, University of Phoenix
MHA, University of Phoenix

Johnson, April M.,
Assistant Professor
AS, College of Southern Maryland
BS, Stevenson University

Kennedy, Lynn C.,
Professor
MSN, Marquette University

Koerbel, Jacqueline S.,
Advisor
AA, Allegany College of Maryland
BS, Towson University

Levings, Sheila P.,
Nursing Retention Coordinator
MN, Western Governors University

Madera, Robin M.,
Assistant Professor
AS, College of Southern Maryland
BSN,  Chamberlain College of Nursing
MS,  Chamberlain College of Nursing

McManaway, Tara G.,
Professor
MDIV, Vanderbilt University
CAGS, Johns Hopkins University

Parsons, Kathleen M.,
Professor
AA, College of Southern Maryland
BSN, University of Maryland
MS, University of Maryland

Reber, Claudia I.,
Lab Coordinator
BS, University of Maryland University College

Russell, Karen F.,
Professor
AS, College of Southern Maryland
BSN, University of Maryland
MS, University of Maryland
DNP, University of Maryland

Rutledge, Deborah D.,
Associate Professor
BSN, Virginia Commonwealth University
MS, Regis University

Stanfield, Jacqueline,
Associate Professor
AAS, Onondaga Community College
BS, D'Youville College
BPS, State University of New York Institute of Technology at Utica/Rome
MSA, Central Michigan University

Weber, Ramona V.,
Associate to Bachelor's Degree Coordinator
MA, Bowie State University

Languages and Literature

Robinson, David M.,
Chair, Professor
BA, University of Notre Dame
MFA, Colorado State University
MA, Teachers College, Columbia University

Smith, Linda C.,
Lead Administrative Assistant

Donnelly, Kimberley M.,
Professor
BS, Clarion University of Pennsylvania
MS, Clarion University of Pennsylvania

Dwyer, Neal M.,
Professor
BA, George Mason University
BA, University of Nice
MA, George Mason University

Fernandez, Maria S.,
Professor

Ghimire, Bishnu,
Associate Professor
MA, University of North Texas
PHD, Ohio University

Heinhorst, Rachel A.,
Assistant Professor
AA, College of Southern Maryland
BA, St Mary's College of Maryland

Hintze, Erich S.,
Professor
AA, College of Southern Maryland
BA, University of Maryland
MFA, Goddard College

Keyes, Krista A.,
Professor
AM, University of California
BA, James Madison University

Kulikowski, John T.,
Associate Professor
BA, Indiana University of Pennsylvania
MA, Kansas State University

Siciliano, Richard J.,
Professor
BA, Franklin Marshall College
MA, Catholic University of America
EDD, George Washington University
EDS, George Washington University

Suwak, Michael E.,
Professor
BA, University of Virginia
MA, George Mason University

Mathematics, Physics, and Engineering

Ronaldi, Andrea D.,
Chair, Professor
BA, University of Delaware
MA, Villanova University

Bryan, Gayle L.,
Administrative Assistant
AA, College of Southern Maryland

Bowling, Joseph C.,
Lab Manager, part-time
BS, Stevenson University

Brezina, Byron T.,
Assistant Professor
AA, College of Southern Maryland
BSME, University of Maryland
MS, Western Carolina University

Cleary, James R.,
Associate Professor
AA, College of Southern Maryland
BSEE, West Virginia University

Ekwue, Eleazer U.,
Professor
BA, University of Nigeria
MS, Ahmado Bello University, Nigeria
PHD, Capella University

Gopinath, Gobi,
Professor
BSEE, University of Missouri
MS, Polytechnic University

McCaslin, Stephanie D.,
Professor
AA, College of Southern Maryland
BA, University of Maryland
MA, Nova Southeastern University
PHD, Capella University

Nyamekye-Frazier, Farhaana,
Professor
BS, University of Miami
MED, University of Texas
PHD, University of Maryland

Poinsett, Sandra S.,
Professor
BS, Indiana University
MED, Towson University
EDS, Northcentral University

Roumani, Fawaz A.,
Professor
MS, Montanuniversität Leoben

Rourke, Elizabeth A.,
Professor
BS, Indiana University of Pennsylvania
MED, Bowie State University

Russell, Fred M.,
Professor
MS, University of Vermont

Sampson, Shanda A.,
Professor
BA, Kean University
ME, Strayer College

Smith, Don E.,
Professor
BS, Indiana University
MS, Ohio University

Sperry, Donna L.,
Associate Professor
AA, University of West Florida
BA, University of West Florida

Social Sciences and Public Services

Allen, Patrick L.,
Chair, Professor
BA, University of Cincinnati
MAT, Harvard University
EDD, University of Cincinnati

Thompson, Janet L.,
Lead Administrative Assistant

Bryant, Maria I.,
Professor
BA, University of Puerto Rico
MA, George Mason University
DA, George Mason University
PHD, American University

Kazim, Shaneeza S.,
Associate Professor
BS, University of Maryland
MA, University of Phoenix

Richards, Eileen J.,
Professor/Area Coordinator, part-time
BGS, University of Maryland
MS, University of Maryland University College

Robertson, Katrina P.,
Associate Professor
BS, Frostburg State University
MA, Indiana University of Pennsylvania

Settle, Elizabeth B.,
Professor
BA, State University of New York At Geneseo
MS, State University of New York At Geneseo

Vrem, Tatiana R.,
Professor
BA, Marymount University
MA, Marymount University

Walker, David M.,
Associate Professor
BA, University of California at Berkeley
MA, San Diego State University
PHD, University of Kentucky

Wright, Suzette,
Professor
BS, Southwest Missouri State University
MA, University of Missouri - Columbia
PHD, University of Missouri - Columbia

Wright, Tora L.,
Coordinator, Childcare Career and Professional Development Fund, part-time
BSBA, Strayer College
MA, College of Notre Dame

Advancement Division

Goodwin, Michelle L.,
Vice President
BSJ, West Virginia University
MBA, Marymount University

Kruszka, Toni M.,
Lead Executive Assistant
AA, College of Southern Maryland

Cockerham, Delores A.,
Senior Grants Development Specialist
BAE, Fairmont State College
MA, West Virginia University

Auxiliary Services

Gannon, Marcy D.,
Executive Director
AA, College of Southern Maryland
BS, Salisbury University

College Stores

Charpentier, Lucia A.,
General Operations Manager

Ellis, Cynthia D.,
General Merchandise Buyer/Webstore Manager

Volack, Brian D.,
Textbook Manager
AA, College of Southern Maryland

Gilday, Renee B.,
Head Cashier/Sales Floor Leader, part-time

Murphy, Brenda L.,
Shipping and Receiving Clerk

Children's Learning Center

Allen, Shirley D.,
Director
MED, Towson University

Muntz, Andrea L.,
Operations Manager

Bivins, Tiffani D.,
Child Care Teacher

Sweeney, Jennifer E.,
Child Care Teacher

Wachowski, Marietta M.,
Early Childhood Teacher

Covert, Shauna M.,
Child Care Teacher
AA, College of Southern Maryland

Cutchember, Tyneka S.,
Child Care Teacher - Infant

Jackson, Laura E.,
Child Care Teacher - Infant

Mason, Valerie P.,
Child Care Teacher

Swann, Albert E.,
Child Care Teacher - School Age

Washington, Mary C.,
Child Care Teacher

Welch, Rebecca S.,
Child Care Teacher - Infant

Windsor, Stephanie L.,
Early Childhood Teacher
AAS, College of Southern Maryland

Community Relations Department

Hupp, Karen S.,
Assistant Vice President
BA, Ohio State University

Christofaro, Patricia M.,
Television Station Manager / Executive Producer
BS, Towson University

Pfeiffer, Larisa J.,
Community Relations Coordinator
BS, University of Maryland University College

Nyce, Valerie A.,
Senior Photography Coordinator
AA, Montgomery College
BS, University of Maryland

Development Department

Brown, Chelsea R.,
Director
AA, College of Southern Maryland
BS, Towson University
MBA, University of Baltimore

Abell, Erika M.,
Development Coordinator
BA, University of North Carolina at Pembroke

Porter, Kelly J.,
Development Operations Coordinator
AA, College of Southern Maryland

Marketing Department

Hancock, Helena R.,
Assistant Director
BS, Towson University
MS, University of Maryland University College

Lozano, Amanda J.,
Content Developer / Copywriter
AA, College of Southern Maryland
BA, Salisbury University

Mail and Distribution Services

Love, Janice M.,
Mail, Distribution, and Fulfillment Services Coordinator
BA, Frostburg State University

Fetty, Melba M.,
Mail Operations Specialist
AA, College of Southern Maryland

Payne, Diane P.,
Mail Operations Electronic Support Technician
AA, College of Southern Maryland

Garrett, Chaunte L.,
Mail Operations Assistant

Taylor, Richard M.,
Courier/Mail Assistant

Scheduling and Conference Services

Coombs, Phyllis E.,
Lead Scheduling Coordinator

Sutten, Annie E.,
Lead Event Manager
AA, College of Southern Maryland

Jones, Margaret M.,
Lead Scheduling and Conference Services Support Specialist
AA, College of Southern Maryland

Creative Services

Jones, Lisa M.,
Director
BFA, The Art Institute of Washington

Jones, Brenda L.,
Lead Desktop Publisher / Production Specialist

Vega, Richard,
Media and Graphics Developer
BS, Westwood College

Reyes, Katherine M.,
Graphic Designer
AA, College of Southern Maryland

Sanchez, Darius R.,
Junior Graphic Designer
AA, College of Southern Maryland
BFA, Towson University

Web Services

Titsworth, Kristen E.,
Lead Director
BA, University of North Carolina At Chapel Hill

Breck, Cynthia B.,
Web Applications Manager
BFA, The Art Institute of Washington

Continuing Education

Mosser, Daniel P.,
Vice President
MED, University of Maryland
PHD, University of Maryland

Lahman, Beverley G.,
Lead Executive Assistant
BS, University of Maryland

Continuing Education Operations

Embrey, Joyce L.,
Director
AA, College of Southern Maryland
BS, Salisbury University
MA, South Dakota State University

Busch, Kimberly A.,
Program Data Management Coordinator
BS, Salisbury University

Ray, Jo A.,
Operations Specialist - Fiscal

Raynes, Frances B.,
Operations Specialist - Student Data

Adult and Community Education

Ferrara, Judith A.,
Director
AA, College of Southern Maryland
BS, California University of Pennsylvania

Personal Enrichment Programs

Holt, Shaunda R.,
Assistant Director
BA, Gustavus Adolphus College

Warrick, Anthony,
Program Coordinator
MS, North Carolina Central University

Coppins-Crump, David M.,
Program Assistant
AAS, College of Southern Maryland

Wellness, Fitness, and Aquatics

Sherman, Andrea A.,
Program Assistant

Zimmer, Erin S.,
Aquatic Center Manager
BS, Wesley College

Aquatics and Community Services

Galeano, Anthony J.,
Coordinator

Driscoll, Sarah T.,
Aquatics Assistant, part-time
AA, College of Southern Maryland

Fitness Center

Smith, Aaron L.,
Fitness Trainer

Maryland Center for Environmental Training

Brandt, Karen L.,
Senior Executive Director
AA, College of Southern Maryland
BS, University of Maryland University College

Ratigan, Patricia A.,
Administrative Assistant

Jones, Tara L.,
Lead Training Coordinator
BS, Texas A&M University

Ryon, Andrea C.,
Training Support Specialist
BA, Frostburg State University

Smith, Karen L.,
Program Specialist, part-time
AAS, College of Southern Maryland

Albrecht, Sara E.,
Natural Resources Planner - MDE
MS, University of Delaware

Santana, Alexis T.,
Natural Resources Planner - MDE
BS, University of Maryland

Woodrow, Nathaniel T.,
Natural Resources Planner - MDE

Program Support - MDE

Haines, Scott A.,
Environmental Compliance Specialist - MDE

Malleck, Adam T.,
Environmental Compliance Specialist - MDE
BA, University of Maryland

Rhodes, April N.,
Environmental Compliance Specialist - MDE
MS, Towson University

Satterfield, Ryan N.,
Administrative Specialist - MDE

Sollohub, Wendy R.,
Administrative Specialist - MDE

Zweizig, Erin K.,
Environmental Compliance Specialist - MDE
BS, Kutztown University of Pennsylvania

Bounds, Christopher G.,
Natural Resource Planner - MDE
BA, Salisbury University

Brubach, Hannah K.,
Natural Resource Planner - MDE

Harrison, Katrina M.,
Natural Resources Planner - MDE
BS, University of New York College of Environmental Science and Forestry

Kremer, Diana P.,
Natural Resource Planner - MDE

Lord, Jessica T.,
Natural Resource Planner - MDE

Nitsch, Jennifer R.,
Natural Resource Planner - MDE
AA,  Howard Community College
BS, Towson University

Sarabia, Deborah E.,
Natural Resource Planner - MDE

Thunell, Erick E.,
Natural Resource Planner - MDE
BS, University of Maryland

Okazaki, Saaya J.,
Office Secretary - MDE
AS, Community College of Baltimore County

White, Andrea M.,
Office Secretary - MDE

Credle, Karen M.,
Administrative Assistant - MDE

Lola Charles, Milola S.,
Administrative Assistant - MDE
BS,  Coppin State College
 

Mangones, Anne M.,
Administrator - MDE
BSED,  Slippery Rock University of Pennsylvania

Small Business Development Center

Flowers-Fields, Ellen,
Director
BBA, Pace University

Creason, Lisa J.,
Program Assistant, part-time
AAS, State University of New York At Binghamton

Quattlebaum, Lesley J.,
Project Manager
BS, University of Maryland

Frank, Ann M.,
Outreach Coordinator

Briscoe, Wynne S.,
Business Consultant

Hitte, William M.,
Consultant
BS, Salisbury University

MacAdams, Kathleen L.,
Consultant, part-time
BS, University of Maryland University College
MS, University of Maryland University College

Workforce Development Programs

Winters, Kelly M.,
Director
AS, College of Southern Maryland
BSN, University of Maryland
MSN, University of Maryland

Allied Careers

Reim, Lori D.,
Program Coordinator
AA, College of Southern Maryland
BS, Park University

Business and Information Technology

Coluzzi, Paula A.,
Program Coordinator
AA, College of Southern Maryland

Whitaker, Lattiea L.,
Program Assistant

Edwards, Rochelle J.,
Employer Outreach and Development Specialist
MS, Walden University

Kauffman, Sarah A.,
Cybersecurity Program Assistant, part-time

Corporate Center, The

Coker, Melissa D.,
Business Solutions Specialist

Thomas, Wanda J.,
Program Assistant
AAS, College of Southern Maryland
AA, College of Southern Maryland

Healthcare

Proctor, Lori A.,
Director
BS, New York University
MBA, University of Phoenix

Lassiter, Jill L.,
Course Manager

Shoaf, Beverly A.,
Program Assistant

Center for the Trades and Energy Training

Posey, Bruce M.,
Director

Langton, Michael,
Course Coordinator
BA, Cazenovia College

Long, Ruena R.,
Program Assistant

Transportation Training

McCollum, Mary E.,
Lead Transportation Programs Director
AA, College of Southern Maryland

Daugherty, Lisa A.,
Program Assistant

Whelan, Michael J.,
Driver Education Manager/Master Trainer

Croxton, Rhonda R.,
Driver Education Coordinator / Instructor

Center for Transportation Training

McCollum, Eric K.,
CDL Program Manager/Master Trainer

Hawks, Stephen N.,
Instructor, Commercial Truck Driver Training

Wood, Paul A.,
Instructor, Commercial Truck Driver Training

Division of Financial and Administrative Services

Jernigan, Tony R.,
Vice President
BS, University of North Carolina At Chapel Hill

Everhart, Jennifer L.,
Lead Executive Assistant
AAS, College of Southern Maryland
BS, University of Maryland University College
MS, University of Maryland University College

Budget Department

Mills, Judith E.,
Director
BS, University of Maryland

Renfroe, Andrea M.,
Grant and Contract Fiscal Coordinator
MBA, Webster University

Financial Services

Cochrane, Robert I.,
Controller
BS, Bradley University
MBA, Lake Forest Graduate School of Management

Shupe, Lori S.,
Lead Fiscal Coordinator
AS, College of Southern Maryland
BS, University of Maryland University College

Roberson, Tricia M.,
Accounting Assistant
AAS, College of Southern Maryland

Bursar's Office

Sackfield, Julie A.,
Bursar
BS, University of Oregon

Jordan, Catherine C.,
Cash Receipts Accountant

De Paz, Marina I.,
Accounting Assistant

Carrico, Logann D.,
Student Accounts Specialist
AA, College of Southern Maryland

Coppins, Kelsey S.,
Student Accounts Specialist
AA, College of Southern Maryland

Physical Plant

Toward, Ronald,
Executive Director
BA, Concordia University
MA, Concordia University
MBA, Concordia University

Dyson, Laura L.,
Facilities Coordinator
AA, College of Southern Maryland
BS, University of Maryland University College

DeCarlo, Patricia A.,
Shipping and Receiving/Fixed Asset Manager

Pruitt, Elizabeth M.,
Assistant

Building and Grounds

Thompson, Sheila E.,
Building Services Manager

Pinkney, Kevin R.,
Supervisor

Brown, William F.,
Team Leader

Chisley, Andrea F.,
Team Leader

Price, Ileatha B.,
Team Leader

Woodland, Hazel M.,
Team Leader

Baker, Anita C.,
Technician

Blythe, Robert T.,
Technician

Brawner, Earl M.,
Technician, part-time

Briscoe, Darrin C.,
Technician

Brown, Charlene,
Technician

Brown, Devonta T.,
Technician

Chesley, Rose M.,
Technician

Chesley, Thurma E.,
Technician

Clark, Charles R.,
Technician

Corbett, Donnell,
Technician

Flint, Leona D.,
Technician

Ford, Charles J.,
Technician, part-time

Hagens, Joseph L.,
Technician, part-time

Hawkins, Michele I.,
Technician

Jackson, Annie A.,
Technician

Washington, Syiassa C.,
Technician
AA, College of Southern Maryland

Woodland, Victor,
Technician, part-time

 

Engineering

Geer, Henry A.,
Lead Engineering Technician
BS, San Diego State University

Operations and Maintenance

Posey, Donald A.,
Assistant Director

Bejarano, Abraham A.,
General Maintenance Specialist

Mahan, Mark S.,
Vehicle Maintenance Specialist
AAS, College of Southern Maryland

Phillips, Kevin S.,
General Maintenance Specialist

Bridges, Gregory J.,
Electrician

Willett, Brandon J.,
Electrician Assistant

Anthony, Tony A.,
Maintenance Painter

Moomey, Steven M.,
HVAC Mechanic

Welch, Nathan J.,
HVAC Mechanic

Procurement/Contracts Department

Piccolo, Joseph A.,
Director
BBA, University of Massachusetts
MBA, University of Connecticut

Morsell, Michelle D.,
Procurement Assistant

Roat, Cassandra L.,
Accounts Payable Manager
AAS, College of Southern Maryland

Fowler, Donja L.,
Assistant
AAS, College of Southern Maryland

Purchasing

Field, Keri B.,
Purchasing Agent, Software Specialist

Kreiser, Lisa M.,
Purchasing Agent

Division of General Counsel

Patenaude, Craig W.,
Vice President
JD, Santa Clara University

Shelor, Carolyn S.,
Executive Assistant
AA, College of Southern Maryland

Human Resources and Payroll Services

Smith, Ivan L.,
Associate Vice President
BA, Catawba College
MS, Troy State University

Johnson, Mary E.,
Administrative Assistant

Bergquist, Patricia H.,
Assistant Director, Employment and Employee Relations

Rupp, Jennifer E.,
Lead Director, Compensation and Benefits
BA, University of Maryland

San Felice, Shelly R.,
Employee Recruiting Coordinator
BS, University of Maryland

Starkey, Pamela S.,
Employee Benefits Coordinator
AA, College of Southern Maryland
BS, University of Maryland University College

Credle, Sharron D.,
Senior Human Resources Generalist
BS, Virginia State University
MS,  Fayetteville State University

Zych, Patricia A.,
Lead Director, Payroll
AA, Prince George's Community College
BS, University of Maryland University College

Buckler, Anne L.,
Payroll Specialist
AAS, College of Southern Maryland
BS, University of Maryland University College

Public Safety and Preparedness Department

Bessette, William R.,
Executive Director
BA, Ashford University
MPA, Norwich University

Campbell, Stephen T.,
Coordinator

Chandler, Gordon B.,
Lead Public Safety Officer

O'Neill, Brian M.,
Public Safety Officer
AAS, College of Southern Maryland

Ball, Brian A.,
Public Safety Officer
AA, College of Southern Maryland

Jonsson, Eggert J.,
Public Safety Officer

Division of Student and Instructional Support Services

Comey, William L.,
Vice President
BA, University of Virginia
MED, University of Delaware
EDD, George Washington University

Davis, Jeanine G.,
Executive Assistant
AA, College of Southern Maryland

Enrollment Management Team

Chambers, Jessica A.,
Associate Vice President
BA, Wright State University
MS, Barry University
EDD, Seton Hall University

Ingwalson, Nancy R.,
Student Engagement Coordinator
BA, Hood College

Admissions Department

Brant, David M.,
Director
EDD, Nova Southeastern University

Boyd, Samantha M.,
Manager
AS, College of Southern Maryland

Wood, Soren R.,
Admissions Assistant
AS, College of Southern Maryland

Call Center

Cockerham, Joshua A.,
Associate Director
BS, Liberty University

Cordero, Rebecca L.,
Specialist
AA, College of Southern Maryland
BA, University of Maryland University College

Reitz, Darlene J.,
Specialist
BS, Edinboro University of Pennsylvania

Searcy, Alexias,
Specialist

Ellis, Joni M.,
Associate, part-time

Recruitment

Potts, Shelby L.,
Assistant Director
BS, Regis University

Furr, Erika W.,
Admissions Advisor

Pasini, Victoria A.,
Enrollment Advisor
BS, East Carolina University

Advising, Career, and Transfer Services Department

Cameron, Helene A.,
Director
MBA, Hampton University

Advising

Diab, Melak V.,
Assistant Director
PHD, University of Maryland

Jones, Gladys L.,
Academic and Career Advisor
MA, Sojourner-Douglass College

Linkins, Jehnell C.,
Academic and Career Advisor
AA, College of Southern Maryland
BS, University of Maryland

Lomax, Lizette F.,
Advisor
BS, University of Maryland Eastern Shore

Mattison, Linda C.,
Academic and Career Advisor
BA, Siena College
MA,  University of California-Santa Barbara

McClure, Kathleen G.,
Academic and Career Advisor
AA, College of Southern Maryland

McDonald, Patrice,
Academic and Career Advisor
BA, Centenary University
MAS, The College of Saint Rose
MS, The College of Saint Rose

Rollins, William J.,
Academic and Career Advisor
BA, University of Mary Washington

Smith, Lisa M.,
Academic and Career Advisor
AA, College of Southern Maryland
BA, University of New Mexico

Taylor, Bridget M.,
Academic and Career Advisor
AA, College of Southern Maryland
BA, University of Maryland University College
MBA, University of Maryland University College

Career Services

Hiland, Chloe A.,
Career Counselor
BS, Washington Adventist University
MA, Liberty University

Sewell, Tracy S.,
Lead Administrative Assistant

Transfer Services

Spence, James O.,
Assistant Director
AA, Emmanuel College
BA, Emmanuel College

Roberts, Brandee N.,
Transcript Evaluator

Financial Assistance Department

Zimmermann, Christian E.,
Lead Director
BA, Washington College
MBA, University of Maryland
MA, Washington College

McBurrows, Shaniel T.,
Assistant Director
BA, University of Maryland

Coppins, Pamela A.,
Lead Manager
AAS, College of Southern Maryland
AA, College of Southern Maryland

Morris, Jasmine W.,
Specialist
AA, College of Southern Maryland

Neil, Georgia D.,
Specialist
AA, College of Southern Maryland

Zanelotti, Gina M.,
Specialist

Roberson, Ashley N.,
Advisor
BS,  Nyack College

Veterans Affairs

Henry, Robert T.,
Coordinator
AA, Saint Leo University
BA, Columbia College
MS, Troy State University

Registrar's Office

Harrison, Carol A.,
Senior Director/Registrar
BS, Frostburg State University
MS, McDaniel College

Welch, Mary K.,
Data Analyst Manager
AAS, College of Southern Maryland

Student Records

Deen, Christine N.,
Assistant Registrar - Student Records
AA, College of Southern Maryland
BA, St Mary's College of Maryland

Kensinger, Nichole H.,
Student Records Specialist
AA, College of Southern Maryland
BA, University of Maryland

Lawrence, Devonta J.,
Student Records Specialist
AS, College of Southern Maryland

Completion and Special Programs

Major, Diane L.,
Assistant Registrar
AA, College of Southern Maryland
BA, Thomas A. Edison State College
MAED, University of Phoenix

Jackson, Joseph R.,
Student Records Specialist

Student Success Center

Collins, Dorothy A.,
Director
BSED, Youngstown State University
MSED, Youngstown State University
PHD, Capella University

McLean, Danielle Y.,
Administrative Assistant

Cangelosi, Laurie J.,
Lead Coordinator
MS, Troy State University

Cooper, Cydnee M.,
Assistant

Disability Support Services

Daniels-Bacchus, Glennis O.,
Associate Director/ADA Coordinator
BA, Fordham University
MS, Polytechnic University

Rabie, Megan G.,
Coordinator
BA, Towson University

Short, Jennell H.,
Office Assistant, part-time

Testing Center

Zafarullah, Salman,
Testing Center Coordinator
BBA, National University of Modern Languages

Desmarais, Lee P.,
Manager
AA, College of Southern Maryland
BA, University of Maryland

Dowell, Stephanie G.,
Testing Center Assistant, part-time
AA, College of Southern Maryland

Information Management Team

Finger, James H.,
Associate Vice President
BA, College of Charleston
MBA, University of South Carolina

Aubel, Stacie M.,
Business Manager
AS, College of Southern Maryland

Project Management and Technical Training

Wathen, Jill R.,
Assistant Director
AAS, College of Southern Maryland
BS, University of Maryland University College

Cleary, Wendy K.,
Lead Technical Training Coordinator
AA, College of Southern Maryland
BS, Towson University
MA, College of Notre Dame

Proctor, Debra A.,
Technology Associate

Technology Support Team

Taylor, Perry F.,
Assistant Director

Baione, Michael C.,
Help Desk Manager

Bates, Anthony C.,
Lead Technology Manager (AV/DL)

Clark, Rodney C.,
AV/DL Technician
BA, Johnson C Smith University
 

Johnson, Larry W.,
Systems Administrator (Network/Telecom)

Smith, Andrew T.,
Administrative Technology Specialist
AAS, College of Southern Maryland

Wilson, Susan M.,
Lead Technology Specialist
AAS, College of Southern Maryland
BS, University of Maryland University College

Enterprise Systems

Kirscht, Eugene J.,
Director
BS, University of Maryland
MBA, University of Maryland University College
MS, University of Maryland University College

Blakeley, Charles M.,
Enterprise Systems Manager
BFA, American Intercontinental University
MDIV, Wesley Theological Seminary

Clark, Keyonna M.,
Assistant Programmer
AAS, College of Southern Maryland
BS, University of Maryland University College
MS, University of Maryland University College

Cox, Matthew A.,
Web Programmer
AS, College of Southern Maryland

Hawkins, Philip S.,
Programmer Analyst
BS, Bowie State University

Applications Development Team

Glassman, Roseann M.,
Assistant Director
BS, City University of New York College of Staten Island

Mason, Tracy M.,
Database Administrator
AAS, College of Southern Maryland

Library

Repenning, Thomas C.,
Lead Director
BA, Hampden-Sydney College
MLS, Clarion University of Pennsylvania
MA, East Tennessee State University

Circulation

Warnes, Anita K.,
Senior Circulation Manager
BA, Shepherd University

Bowling, Barbel L.,
Library Specialist

Blackburn, Patricia T.,
Library Assistant
AAS, College of Southern Maryland

DeCarlo, Allison T.,
Library Assistant, part-time

Reference

Dobbs, Vincent V.,
Lead Reference Librarian
BA, Towson University
MLS, University of Maryland University College

Southern Maryland Studies Center

Kephart, Anna J.,
Lead Coordinator
BA, Kenyon College
MSLS, University of North Carolina At Chapel Hill

Russell, Danielle L.,
Library Archives Assistant
MS, Simmons College

Network Administration and Security

Marek, David M.,
Director
AA, College of Southern Maryland

Craft, Caleb W.,
System Administrator
AAS, College of Southern Maryland

Cumberland, Kevin G.,
Network Security Administrator
AAS, College of Southern Maryland

Ferebee, Lakisha D.,
System Administrator (Network/Academic)

Grippo, Melissa,
Systems Administrator (Network/Wireless)
AAS, College of Southern Maryland

Hamilton, Barry D.,
Lead Network Manager
AAS, College of Southern Maryland

Legaspi, Francisco E.,
Systems Administrator (Network/Datacom)
AAS, College of Southern Maryland

Polhemus, Daniel E.,
System Administrator (Network/ERP)
AAS, College of Southern Maryland

Student Affairs

Hunter, Kevin R.,
Director of Student Affairs
BA, Bard College
MS, State University of New York at Cortland
 

O'Neill, Martha A.,
Student Health and Wellness Coordinator, part-time

Student Life and Athletics Department

Ruble, Michelle M.,
Executive Director
BA, Elon College
MA, College of Notre Dame

Chambers, Melissa H.,
Operations Manager
AA, College of Southern Maryland
BA, University of Maryland

Student Life

Zeolla, Heather M.,
Coordinator
BS, Towson University
MS, Capella University

Athletics

Williams, Sarah C.,
Assistant Director
BS, Frostburg State University
MS, California University of Pennsylvania

Bowling, Erin B.,
Athletics Coordinator
BS, Concord University

Leonardtown Campus

Harris, Tracy A.,
Vice President and Dean
BS, Pennsylvania State University
MPA, University of Pittsburgh
PHD, Walden University

Jones, Teresa E.,
Lead Executive Assistant
AAS, College of Southern Maryland

Williams, Lynn L.,
Lead Scheduling/Administrative Assistant
AAS, College of Southern Maryland

Adult and Community Education

Mitchell, Jennifer L.,
Instructional Specialist, part-time
BS, University of Maryland University College
BA, The Sage Colleges
MA, American University

Nelson, Frazer,
Intake/Assessment Specialist
BS, Frostburg State University

Business/Faculty Support Office

Edmondson, Tina M.,
Lead Business Office Manager
AA, College of Southern Maryland

Merckson, Mary E.,
Business Office Specialist, part-time

College Store

Reeves, Christopher S.,
Operations Manager, part-time

Campbell, Kaitlin M.,
Head Cashier/Sales Floor Leader, part-time

Information Technology Services

Robbins, Aaron M.,
IT Technician
AAS, College of Southern Maryland

Library

Johnson, Mary B.,
Coordinator
AA, College of Southern Maryland
BA, St Mary's College of Maryland

Osborne, Mary C.,
Assistant
AA, College of Southern Maryland

Physical Plant

Brooks, Eric A.,
Facilities Supervisor

Waul, Gregory O.,
General Maintenance Specialist

Richards, Christopher P.,
Building and Grounds Team Leader

Barnes, William E.,
Building and Grounds Technician

Corpus, Caesar,
Technician

Kitchen, Rashaun A.,
Building and Grounds Technician

Locks, Frechetta R.,
Technician

Russell, William P.,
HVAC Mechanic

Public Safety and Preparedness

Kuykendall, Douglas P.,
Lead Public Safety Coordinator
AA, College of Southern Maryland

Graham, Ricky M.,
Public Safety Officer

Delabrer, John A.,
Public Safety Officer
BS, American Intercontinental University
MED, American Intercontinental University

Student Services

Bowman Goldring, Catherine R.,
Assistant Vice President
BS, Frostburg State University
MA, George Washington University

Morris, Rochelle E.,
Assistant Director, Advising
AA, University of Phoenix
BS, University of Phoenix
MAM, University of Phoenix

Thompson, Christina E.,
Lead Student Services Support Manager
AA, College of Southern Maryland

Savage, Mark S.,
Career Coordinator and Academic Advisor
MS, State University of New York at Oswego

Van Cory, Jennifer L.,
Student Life Coordinator
BS, Bowie State University
MA, Bowie State University

Baker, Latasha R.,
Enrollment Advisor
AS, College of Southern Maryland
BA, St Mary's College of Maryland

Koropeckyj Chorney, Ulana S.,
Academic and Transfer Advisor
BA, American University

Morgan, Thirza H.,
Financial Assistance Advisor
AS, College of Southern Maryland
BS, Excelsior College

Counseling

Fossell, Jennifer E.,
Counselor
BA, Bethany College
MSW, University of Maryland
MA, Temple University

Veterans Affairs

Ragin, Laticia L.,
Veteran/Academic Advisor
AS, Vincennes University
BS, Liberty University

Student Success Center

Russell, Beverly D.,
Lead Student Success Coordinator
AA, College of Southern Maryland
BS, University of Maryland University College
MS, Walden University

Testing Center

Dyson, Jacqueline D.,
Testing Center Manager

Clarke, Lora M.,
Testing Center Assistant, part-time
AA, College of Southern Maryland

Transportation, Driver Education

Murphy, Heather M.,
Driver Education Assistant, part-time
AA, College of Southern Maryland

Wellness, Fitness, and Aquatics

Kebaugh, Kyle D.,
Assistant Director
MS, Indiana University of Pennsylvania

Fleming, Samuel B.,
Aquatics Center Manager
AA, College of Southern Maryland

Rothstein, Deanna C.,
Coordinator, Aquatics and Community Services
BA, State University of New York At Buffalo

Anderson, Andrew G.,
Aquatics Assistant, part-time

De Baugh, Sherrise T.,
Fitness Trainer
BS, Shepherd University
MS, California University of Pennsylvania

Leonardtown Faculty

Drake, Rachel J.,
Professor
BS, Old Dominion University
MS, University of Maryland University College

Glassman, Kenneth B.,
Professor
BA, State University of New York
JD, Western New England College

Hundert, Steven I.,
Professor
BA, Fairleigh Dickinson University
MA, University of New Hampshire

Klinger, Mary B.,
Professor
BA, Hood College
MBA, San Francisco State University
MIM, Thunderbird, The American Graduate School of International Management
PHD, Capella University

Maloney, Michael F.,
Professor
BA, Fairmont State University
MA, Bowie State University

McManus, Carolin,
Professor
BS, St Mary's College of Maryland
MA, University of Texas

Miller, Rose M.,
Professor
ADN, Wallace Community College
BSN, Troy State University
MPA, Auburn University
MSN, University of Alabama At Birmingham

Phalen, David P.,
Professor
BA, Iowa State University
MA, University of Southern Mississippi

Ragland, Annette B.,
Professor
AS, Southern West Virginia Community and Technical College
BSN, Marshall University
MS, University of Maryland

Strickland, Susan R.,
Professor
BS, St Mary's College of Maryland
MS, Lehigh University

Stuller, Tracey M.,
Professor
BS, University of Maryland
DVM, University of Tennessee

Syring, Joy C.,
Professor
BA, Armstrong Atlantic State University
MA, University of South Carolina

Young, Robin M.,
Professor
BSN, West Virginia Wesleyan College
MSN, University of Phoenix
MSM, Florida Institute of Technology

Short, John S.,
Assistant Professor
BS, Virginia Tech
MS, Virginia Tech
PHD, University of Utah

Christian, Michelle B.,
Associate Professor
AA, College of Southern Maryland
BS, University of Maryland
MA, University of Maryland

Link, Barbara A.,
Associate Professor
BS, Southern New Hampshire University
MAED, Concordia University

Rodriguez, Ashleigh M.,
Assistant Lab Coordinator, part-time
AS, College of Southern Maryland
BS, University of Pittsburgh

Wick, Carrie F.,
College Prep Math Lab Manager, part-time
AA, College of Southern Maryland

Hernandez, Jennifer M.,
Lab Assistant HEA, part-time
ABA, American Intercontinental University
BBA, American Intercontinental University
MBA, American Intercontinental University

Prince Frederick Campus

Ives, Barbara A.,
INTERIM Vice President and Dean
MA, College of Notre Dame

Wilding, Sharon L.,
Senior Executive Assistant to the Vice President
AAS, College of Southern Maryland

Sneade, Benita V.,
Senior Business Office Manager
AAS, College of Southern Maryland

Hammons, Aleigha R.,
Scheduling and Faculty Support Specialist
AA, College of Southern Maryland

Kent, Marcia N.,
Administrative Office Assistant

Ward, Carol L.,
Administrative Office Assistant

Adult and Community Education

McGreevy, Edie M.,
Adult Education Coordinator
BA, West Virginia University
BSSED, West Virginia University

Cassidy-Buete, Denise L.,
Management Information Systems Specialist/Program Assistant

Supanick, Regina B.,
Intake/Assessment Specialist, part-time
EDM, Bowie State University

Van Hart, Shelby J.,
Instructional Specialist, part-time

Gutowski, Mary V.,
Lead Assessor/Advisorv NEDP
BS, Georgia Southern University

Rice, Trudy L.,
Advisor/Assessor, part-time

College Store

Leonardi, Laura J.,
Operations Manager

Dove, William E.,
Operations Assistant, part-time

Chapman, Steven J.,
Clerk, part-time
AAS, College of Southern Maryland

Continuing Education and Workforce Development

Lesesne Graves, Jennifer N.,
Coordinator, part-time
AA, College of Southern Maryland
AS, College of Southern Maryland
BS, University of Maryland University College
MBA, University of Maryland University College

Information Technology Services Department

Baldwin, William J.,
AV/IT Technician

Dashiell, Mannyson K.,
IT Technician

Library

Potter, Jeffrey L.,
Coordinator
BA, Brigham Young University
MLS, University of Maryland

Stewart, Quonte L.,
Library Assistant
AA, College of Southern Maryland

Physical Plant

Stansfield, Stephen S.,
Lead Facilities Supervisor

Borland, Anthony,
Building and Grounds Technician

Kegley, Stephen P.,
General Maintenance Technician

Kyler, Justin L.,
Building and Grounds Technician

Neale, Francis J.,
Building and Grounds Technician

Russell, William P.,
HVAC Mechanic

Washington, Bruce D.,
Building and Grounds Team Leader

Public Safety and Preparedness Department

Garner, Michael L.,
Public Safety Officer

Hildebrand, Kurt W.,
Public Safety Officer

Student Services

Williams, Lydia J.,
Executive Director, Student Services
BA, Delaware State University
MS, Miami University
DM, University of Maryland University College

Patel, Amee P.,
Lead Student Services Support Manager
AA, College of Southern Maryland
BA, University of Maryland
MA, Johns Hopkins University

Perez, Ricardo,
Student Life Coordinator
BS, Johnson & Wales University

Robins, Laura M.,
Student Success Coordinator
BA, Loyola College

Alden, Katherine A.,
Academic/Transfer Advisor
BA, University of Wisconsin

Manning, Rachel A.,
Enrollment Advisor
AA, College of Southern Maryland
BS, West Virginia University
MS, University of Florida

Maratta, Martha E.,
Academic Advisor/Completion Specialist
BA, University of Maryland
MA, Bowie State University

Marshall, LaShonda T.,
Advisor, Financial Assistance
AAS, College of Southern Maryland
BS, University of Maryland University College

Smith, Kenneth A.,
Career Coordinator/Academic Advisor
AA, Brookdale Community College
BS, Bowie State University
MA, Indiana University of Pennsylvania

Counseling

Fossell, Jennifer E.,
Counselor
BA, Bethany College

Disability Support Services

Zgorski, Renata B.,
Disability Support Services Coordinator

Testing Center

Giles, Linda A.,
Testing Center Manager
AA, College of Southern Maryland

Krauss, Courtnie E.,
Assistant, part-time
AA, College of Southern Maryland

Ronn, Christina D.,
Assistant, part-time
BBA,  Cuny Bernard M Baruch College

Transportation, Driver Education

Adams, Joseph M.,
Instructor, Driver Education Programs
AA, College of Southern Maryland

Giles, Melissa S.,
Program Assistant, part-time
AA, College of Southern Maryland
BS, Brigham Young University

Wellness and Fitness

Frazier, Melvina L.,
Fitness Trainer, part-time
AA, College of Southern Maryland
BS, California University of Pennsylvania

Prince Frederick Faculty

Burgin, Joe A.,
Professor
BA, Oral Roberts University

Dahlstrom, Morag F.,
Professor
BSN, Northern Illinois University
MSN, Northern Illinois University

Gilmer-Knudson, Denise,
Professor
AA, Lees-Mcrae College
BA, Arizona State University
MA, University of Nebraska At Lincoln

Gu, Yikui,
Professor
MFA, Pennsylvania Academy of the Fine Arts

Guidry, Chretien F.,
Professor
BA, University of Maryland
MED, Marymount University
DA, George Mason University

Harrison, Bonnie L.,
Professor
BS, University of Baltimore
MAS, Johns Hopkins University

Jenkins, Renee,
Professor
BS, George Washington University
MED, Howard University

Lacroix, Michele M.,
Professor
BA, University of Maryland
MA, University of Maryland

Lynk Smith, Lisa,
Professor
AA, Cerritos College
BA, University of California
MA, California State University

Merranko, Sarah E.,
Professor
BA, University of Wisconsin
MA, Ball State University
EDD, George Washington University

Osterhouse, Melanie D.,
Professor
BS, Virginia Polytechnic Institute and State University
DC, National University of Health Sciences

Spiegel, George F.,
Professor
BS, University of Illinois
MS, Southern Illinois University
PHD, University of Texas

Ankney, Christopher P.,
Assistant Professor
BA, Miami University
MFA, Columbia College Chicago

Crocker, Lori A.,
Assistant Professor
BS, University of Maryland
MS, University of Maryland

Hand, Sarah L.,
Assistant Professor
BS, University of Maryland
MS, Johns Hopkins University

McCrary, James K.,
Assistant Professor
BS, Virginia Military Institute
MS, Naval Postgraduate School

White, Richard I.,
Assistant Professor
BS, University of Maryland University College
BS, Pennsylvania State University
MBA, University of Maryland University College
MS, University of Maryland University College

Grosek, Joshua,
Associate Professor
BA, State University of New York At Binghamton
MAT, State University of New York At Binghamton

Kan, Eden Z.,
Associate Professor
MSN, Villanova University
DNS, Widener University

Moroney, William E.,
Associate Professor
AS, Prince George's Community College
BS, University of Maryland
MS, Nova Southeastern University

Herlihy, Jacob E.,
Instructor
BS, Salisbury University
MS, Johns Hopkins University

Pastorius, Donna B.,
Lab Assistant, part-time

Rodriguez, Ashleigh M.,
Assistant Lab Coordinator, part-time

Regional Hughesville Campus

Washington, William R.,
Building Services Specialist

Donegan, Arthur J.,
Public Safety Officer

Skinner, Justin D.,
Public Safety Officer, part-time
AA, College of Southern Maryland
 
Part-Time Faculty All Campuses
Acosta, Angeline A.,
BA, University of the Philippines
 
Adair, Janine M.,
BA, Dickinson College
MA, George Washington University
 
Alden, Harry A.,
BS, Millersville University
MS, University of California
PHD, Florida State University
 
Alioto, Daniel D.,
BS, Mountain State College
MS, Johns Hopkins University
 
Anadu, Ejikeme S.,
MD, University of Nigeria
 
Anderson, Scott C.,
BS, State University of New York At Albany
MA, University of Detroit Mercy
 
Anderson, Valerie A.,
BA, Salisbury University
 
Andreas, Jennifer L.,
BA, Concordia University
MED, Fresno Pacific University
 
Aulakh, Reet S.,
MS, Towson University
 
Babiarz, Mary J.,
AA, College of Southern Maryland
BA, University of Maryland University College
MAT, University of Maryland University College
 
Bacchus, Mohamed N.,
BS, University of Southern Maine
MA, Webster University
 
Baker, Donald E.,
ASE, College of Southern Maryland
MS, San Jose State University
 
Baker, Latasha R.,
AS, College of Southern Maryland
BA, St Mary's College of Maryland
 
Bannister, Joi L.,
 
Barnes, Raena K.,
AA, College of Southern Maryland
BSN, South University
 
Barnes, Sandra D.,
BS, Clemson University
MA, Columbia University
 
Barracato, John W.,
BS, University of Maryland
MS, Mississippi State University
 
Baslee, Hannah R.,
MM, University of Texas
 
Bauer, Heidi L.,
 
Bellony, Claudia L.,
 
Belvin, Kimberly W.,
BA,  Duke University
BA, University of Hawaii At Manoa
MED, Towson University
 
Bergin, Ryan A.,
AA, College of Southern Maryland
BA, University of Maryland University College
MA, Mercy College
 
Berry, Shemika R.,
 
Birch, Katie A.,
 
Black, Jonathan L.,
 
Black, Rachel E.,
BS, Carnegie Mellon University
MA, University of Southern California
 
Bleakley, Albert N.,
BS, University of Maryland University College
MBA, Strayer College
 
Blewett, Christine M.,
BFA, Shenandoah University
MA, Fontbonne University
 
Bloom, Kristin C.,
BS, Salisbury University
MA, College of Notre Dame
 
Blumberg, Kathleen B.,
BS, Towson University
 
Bode, Alison L.,
BA, University of Maryland
MS, University of Maryland
 
Booth, Nathaniel A.,
 
Bouldin, Adrian L.,
 
Bowling, Joseph C.,
BS, Stevenson University
 
Bowman Goldring, Catherine R.,
BS, Frostburg State University
MA, George Washington University
 
Boyce, Jesse M.,
 
Brannan, Lawrence J.,
BS, University of Dayton
MS, University of Dayton
 
Brannon, Ashley M.,
BA, Pensacola Christian College
MBA, Liberty University
 
Brezina, Cari A.,
BFA, Moore College of Art and Design
MA, Villanova University
 
Bridger, Teresa L.,
MED, University of Pittsburgh
PHD, George Mason University
 
Brien, Megan B.,
BA, Mars Hill College
MA, College of Notre Dame
 
Brown, Larry W.,
 
Brown, Tiffany M.,
AS, College of Southern Maryland
BS, Deaconess College of Nursing
 
Bru, Luanne J.,
AS, Park University
BS, Park University
MAT, Towson University
 
Brumis, Alyssa M.,
BA, Washington College
MA, Kent State University
 
Bruzzi, Sara L.,
BA, Edinboro University of Pennsylvania
BSN, Edinboro University of Pennsylvania
 
Buehl, Elizabeth A.,
BS, Pennsylvania State University
MED, College of New Jersey
DEDUC, Widener University
 
Burdick, Brent A.,
BGS, University of Nebraska
MS, Troy State University
 
Burke, Bill B.,
BA, University of Massachusetts
BM, Utah State University
 
Butters, Linda M.,
BS, University of Maryland University College
 
Cain, Matthew C.,
BA, Ohio University
 
Calandra, Stevie,
 
Callander, Angela R.,
AS, College of Southern Maryland
BSN, University of Maryland
 
Campbell, Barbara J.,
BS, University of Maryland
MA, George Washington University
EDD, University of Maryland
 
Campbell, Edmund S.,
BA, University of Maryland
MA, George Washington University
 
Campbell, Mary K.,
AA, College of Southern Maryland
BA, St Mary's College of Maryland
MA, University of Phoenix
 
Carle, Steven E.,
 
Carlson, Kathleen M.,
AA, College of Southern Maryland
BA, University of Maryland
MFA, George Washington University
 
Caron, Christina L.,
BA, University of Maryland
 
Carron, Edith G.,
BS, University of Latvia
MS, University of Latvia
PHD, University of Latvia
 
Carter, Diane,
MS, University of Maryland University College
 
Castleberry, Bonnie J.,
BS, University of Maryland
BSN, University of Maryland
 
Catalan, Carrie A.,
AS, College of Southern Maryland
BSN, Kaplan University
 
Cedar, Brian P.,
BS, Johns Hopkins University
MS, Johns Hopkins University
 
Cezar, Rachel,
 
Chandlee, Mark S.,
 
Chandler, Blythe V.,
BA, University of Melbourne
PHD, University of Melbourne
 
Charlebois, Justin M.,
BA, State University of New York at Oswego
MA, Teachers College, Columbia University
 
Chase, Marcia L.,
BS, Northwestern State University of Louisiana
MA, Webster University
 
Childs, Marjorie J.,
BS, Northwestern University Library
 
Churchill, Jason S.,
AS, Jamestown Community College
BS, Nazareth College of Rochester
MA, Savannah College of Art and Design
 
Cissell, Robin L.,
 
Clark, Bonnie L.,
AA, Community College of Baltimore County
BA, University of Maryland
MA, George Mason University
 
Clark, Gail I.,
BA, Carson-Newman University
 
Clarke, Justine M.,
BS, Towson University
MS, Western Kentucky University
 
Cleary, Wendy K.,
AA, College of Southern Maryland
BS, Towson University
MA, College of Notre Dame
 
Clement-Bremer, Lynn A.,
BA, Michigan State University
MA, American University
 
Clifton, Mary M.,
BA, St Mary's College of Maryland
MS, Johns Hopkins University
 
Colley, William B.,
MBA, Strayer University
EDD, Nova Southeastern University
 
Collier, Michael B.,
BS, Fourah Bay College
 
Collins, Dorothy A.,
BSED, Youngstown State University
MSED, Youngstown State University
PHD, Capella University
 
Collins, Heather M.,
AA, College of Southern Maryland
BS, Towson University
 
Combs, Anne M.,
BS, Salisbury University
 
Conner, Zoa E.,
BS, Carnegie Mellon University
MS, University of Maryland
PHD, University of Maryland
 
Conover, Ross P.,
 
Constantine, David W.,
BMUS, University of Oregon
MMUS, University of Oregon
 
Cooper, Elizabeth A.,
BSN, Catholic University of America
MED, Towson University
 
Coppedge, Barbara M.,
BSN, Norfolk State University
 
Costello, Suzanne,
MA, University of Notre Dame
 
Covey, Paul M.,
PHD, University of Maryland
 
Craig, Raymond T.,
BS, Brigham Young University
MS, Brigham Young University
 
Craton, Karl T.,
BA, University of Maryland
MED, University of Maryland
 
Creel, Jennie L.,
BS, Virginia Commonwealth University
ME, Virginia Commonwealth University
 
Crowe, Sherry R.,
BS, Furman University
PHD, Medical University of South Carolina
 
Crump, Milton M.,
AA, Northern Virginia Community College
AA, University of Maryland
BS, University of Maryland
MS, Nova Southeastern University
 
Culbreth, Donna A.,
BSN, University of Maryland
 
D'Aurora, Kathleen M.,
BS, Pennsylvania State University
MEM, Florida Institute of Technology
 
Davies, Christopher H.,
BS, James Madison University
MA, Trinity Washington University
 
Davies, Colleen Z.,
MS, McDaniel College
 
Davis, Amy K.,
BA, University of Maryland
MSW, University of Maryland
 
Davis, Kenneth L.,
 
Davis, Sammie L.,
 
Davis, Tiffany W.,
AAS, College of Southern Maryland
BS, University of Maryland University College
MS, University of Maryland University College
 
Dayries, Annie E.,
 
Deahl, Erik L.,
BA, West Virginia University
MA, West Virginia University
 
Debartolomeo, F A.,
BA, College of the Holy Cross
MS, Walden University
 
Delabrer, April L.,
BA, St Mary's College of Maryland
 
Delabrer, John A.,
BS, American Intercontinental University
MED, American Intercontinental University
 
Dennis, Stacy M.,
BA, Rollins College
MBA, Columbia College
 
Desmond, Timothy O.,
BA, Boston College
MA, Georgetown University
MA, University of Hawaii At Manoa
 
Dodson, Yvette M.,
BA, St Mary's College of Maryland
ME, University of Maryland
 
Dolan, Christopher S.,
 
Dolby, Shaunna S.,
BSN, Walden University
MSN, University of Phoenix
 
Domenici, Theresa L.,
BS, George Mason University
 
Douglas, Sheila,
BA, Pennsylvania State University
MA, George Mason University
MA, Pennsylvania State University
 
Douglass, Paul W.,
BS, Eastern Nazarene College
 
Dowell, Margaret L.,
BA, Frostburg State University
MFA, University of Maryland
 
Dreher, Landry C.,
BS, Texas A&M University-Corpus Christi
MS, Texas A&M University-Corpus Christi
 
Driscoll, Emelda T.,
PHD, Syracuse University
 
Duggan, Neal R.,
 
Dunoh, Agnes W.,
MSN, Clarkson College
 
Ebach, Tracy L.,
 
Edelen, Brandie M.,
BA, South University
MS, Argosy University
 
Edwards, Laurie P.,
BS, State University of New York at Oswego
MED, State University of New York at Oswego
 
Edwards, Rochelle J.,
MS, Walden University
 
Ekwue, Christiana U.,
BA, Ahmado Bello University, Nigeria
MA, Ahmado Bello University, Nigeria
 
Elder, Patrick J.,
MA, University of Maryland University College
 
Ellis, Tisa T.,
BSN, University of Pittsburgh
 
Elmore, William L.,
BA, Chapman University
 
Elsner, Timothy J.,
BA, University of Illinois
MS, University of Illinois
 
Evans, Kristen N.,
AS, College of Southern Maryland
MSN, Aspen University
 
Everette, Theresa,
MA, George Washington University
 
Faison, Russell G.,
 
Farnham, KeTrena S.,
BS, North Carolina State University
MSTAT, North Carolina State University
 
Farrar, James A.,
BS, Lasell College
MS, California University of Pennsylvania
 
Farrell, Wendy S.,
BS, University of Maryland
MA, Trinity Washington University
 
Faughnan, Eric H.,
BS, University of Maryland
MARCH, University of Maryland
 
Fehr, James M.,
BA, University of Iowa
MBA, Golden Gate University
 
Felker, Andrew S.,
BS, Liberty University
MS, Purdue University
 
Ferebee, Lakisha D.,
 
Ferrara, Judith A.,
AA, College of Southern Maryland
BS, California University of Pennsylvania
 
Fickes, Carrie A.,
BS, Kutztown University of Pennsylvania
MED, University of Maryland
 
Fields, Donna T.,
MSN, Walden University
 
Fighera, Vince J.,
BS, Bowie State University
MA, Bowie State University
PHD, Union Institute
 
Finck, Michael K.,
BED, Lock Haven University
 
Fitzgerald, Linda,
BS, University of Maryland
 
Flemens, Kevin W.,
BPS, George Washington University
MPS, George Washington University
 
Fogarty, Cara A.,
BS, State University of New York at Oneonta
MA, Ohio State University
 
Forgette, Thomas E.,
BS, University of Maryland University College
 
Foster, Denise A.,
AA, College of Southern Maryland
BA, American University
MPA, University of North Florida
 
Frederick, Allison J.,
 
Freeman, Alan D.,
BS, Western Carolina University
 
Freire, Michelle E.,
BA, University of Maryland
MFA, University of Texas
 
Fried, Bruce S.,
BS, University of Maryland
 
Frock, David J.,
BS, Pennsylvania State University
MBA, Colorado State University
 
Frost, Lisa M.,
BS, Lenoir-Rhyne University
MS, Chamberlain College of Nursing
 
Fulbright, Yvonne K.,
MSED, University of Pennsylvania
PHD, New York University
 
Gallagher, John M.,
BS, Drexel University
MA, La Salle University
DEDUC, Argosy University
 
Gallant-Wall, Michelle L.,
BS, Towson University
MED, Loyola University Maryland
 
Ganley, James R.,
BS, Coastal Carolina University
MSED, Walden University
 
Garcia Vargas, Maria C.,
BA, University of Seville
 
Garcia, Ricky I.,
AS, College of Southern Maryland
BS, University of Maryland
 
Gatling, Latasha C.,
BS, Bowie State University
MA, Morgan State University
 
Geddes, Katherine J.,
 
Geier, Matt T.,
MA, Liberty University
 
Geiger, Leah,
BS, Salisbury University
MED, University of Maryland
 
George, David P.,
BA, Washington College
MS, George Washington University
 
Gerrie, David E.,
AA, College of Southern Maryland
BA, San Diego State University
 
Gibson-Malone, Karen L.,
 
Gilbert, Heather R.,
AA, College of Southern Maryland
AS, College of Southern Maryland
BS, University of Maryland University College
MS, University of Maryland University College
 
Giles, Eric D.,
BA, University of Delaware
BFA, Maryland Institute College of Art
MA, Monterey Institute of International Studies
MA, University of Colorado
 
Gillingham, Laura L.,
AS, College of Southern Maryland
 
Girard, Kimberly S.,
AA, College of Southern Maryland
 
Glockner, Kathryn B.,
BS, University of Maryland University College
MA, Towson University
 
Goldsborough, Kelli H.,
AA, College of Southern Maryland
AS, College of Southern Maryland
 
Gonzalez, Jesse J.,
BA, Evangel University
MA, Purdue University
 
Gonzalez, Rasheeda,
MS, Deaconess College of Nursing
 
Goodrich, David M.,
BS, University of Illinois
MS, Illinois Institute of Technology
 
Goodwin-Pinder, Allyson C.,
BA, American University
MPS, Georgetown University
 
Gosford-Stewart, Farrah L.,
 
Grable, Loren D.,
BS, University of Maryland University College
MBA, University of Maryland University College
MS, University of Maryland University College
 
Grant, Roslyn H.,
BS, University of Maryland University College
MA, University of Phoenix
 
Graves, James E.,
AAS, College of Southern Maryland
BS, University of Maryland University College
MS, University of Maryland University College
 
Green, Alexander M.,
 
Green, Nicole B.,
BA, George Mason University
BS, Towson University
MED, Bowie State University
 
Greer, Christina L.,
BS, Towson University
MED, University of Maryland University College
 
Greer, Patrick B.,
BS, Kent State University
MBA, King College
PHD, Marquette University
 
Grijalva, Yvette D.,
AS, Colorado Technical University
BSN, American Sentinel University
 
Gross, Lawrence,
BS, University of Maryland University College
MS, University of Maryland University College
 
Hadley, Sandra B.,
MS, Nova Southeastern University
 
Hahn, Jacqueline A.,
AA, College of Southern Maryland
BA, St Mary's College of Maryland
 
Hall, Erin N.,
BA, Mary Baldwin College
 
Hanna, Simone M.,
AA, College of Southern Maryland
BA, Wilkes University
 
Hansen, Amy S.,
AA, College of Southern Maryland
BS, Bowie State University
MA, College of Notre Dame
 
Haralson, Joe N.,
PHD, Georgia Institute of Technology
 
Hardee, Elaine T.,
BA, Virginia State University
MA, Bowie State University
 
Hardman, Cynthia D.,
AA, College of Southern Maryland
BA, St Mary's College of Maryland
MA, College of Notre Dame
 
Hardos, Robert J.,
BA, Pennsylvania State University
MPA, Pennsylvania State University
 
Harris, Kevin R.,
BS, North Carolina Agricultural and Technical State University
MS, North Carolina Agricultural and Technical State University
 
Harris, Lida P.,
BS, Bowie State University
 
Harris, Rachel M.,
BA, College of Notre Dame
MA, Gonzaga University
 
Harrison, John E.,
BS, University of Baltimore
 
Hawks, Stephen N.,
 
Hayes, Barbara M.,
BS, Clarkson University
 
Hayes, Mark G.,
AAS, College of Southern Maryland
 
Heckel, Christine A.,
 
Heddinger, Rebecca S.,
AAS, College of Southern Maryland
 
Heid, Michael,
BA, Trinity College
 
Helm, Maria Reynalyn I.,
BS, De la Salle University
MS, University of Maryland
 
Henderson, Linda E.,
AA, Cape Fear Community College
BS, University of Mount Olive
 
Henry, Michelle S.,
BSN, University of Phoenix
 
Hersh, Cameron M.,
AAS, College of Southern Maryland
 
Hickey, Nicole E.,
BSN, University of Maryland
 
Hicks, Alfreda D.,
 
Hicks, Susan J.,
BSN, University of Maryland
MN, Chamberlain College of Nursing
 
Hiland, Chloe A.,
BS, Washington Adventist University
MA, Liberty University
 
Hill, David B.,
BA, Columbia College
MA, Naval War College
 
Hill, Jeremy T.,
BS, University of Maryland
MS, University of Maryland
 
Hill, Scott S.,
BA, Metropolitan State College
MA, George Mason University
 
Hobbs, Charles W.,
AA, College of Southern Maryland
BA, St Mary's College of Maryland
MA, Kansas State University
 
Hoffer, William M.,
 
Hoffman, Raymond J.,
AAS, College of Southern Maryland
MS, University of Maryland University College
 
Huesman, Angela M.,
BS, Armstrong State University
MS, University of South Carolina
 
Huey, Barbara E.,
AA, College of Southern Maryland
BA, University of Maryland University College
 
Hughes, Timothy,
BS, Rochester Institute of Technology
MS, Virginia Tech
 
Hughes-Salada, Susan,
BS, San Jose State University
 
Hume, Evan J.,
BFA, Virginia Commonwealth University
MFA, George Washington University
 
Humphries, Katherine E.,
AA, College of Southern Maryland
BA, St Mary's College of Maryland
 
Hurry, Nathan E.,
AS, College of Southern Maryland
BS, University of Maryland
 
Hutchins, Amber R.,
AA, College of Southern Maryland
AS, College of Southern Maryland
BSN, Jacksonville University
 
Hutchison, Jennifer,
MS, Winthrop University
 
Ivie, Janice L.,
BA, University of Maryland
 
Jackson, Tonya T.,
BS, Washington Adventist University
MA, Liberty University
 
Jacques, Nora J.,
 
James, Jeannine E.,
BA, Virginia Tech
MA, Texas Tech University
 
Jameson, Gary,
BFA, University of Illinois
MA, Northern Illinois University
MFA, Northern Illinois University
 
Janowsky, Karen B.,
BA, Florida State University
MA, Florida State University
 
Jenkins, Margaret H.,
BA,  Union University
MED, Bowie State University
PHD, University of Maryland
 
Johnson, Geneth Y.,
AS, College of Southern Maryland
 
Johnson, Gina T.,
BS, Fairmont State University
 
Johnson, Thomas F.,
BS, East Carolina University
MS, Liberty University
 
Johnson, William J.,
BA, Miles College
MDIV, Interdenominational Theological Center
 
Johnson, William R.,
AAS, College of Southern Maryland
BS, University of Maryland University College
 
Jones, Amelia K.,
BA, State University of New York at Cortland
 
Jones, Diane E.,
 
Jones, Shadei E.,
BS, Virginia State University
 
Jones, Tara L.,
BS, Texas A&M University
 
Jordan, Perrin R.,
BA, St Mary's College of Maryland
MA, University of Texas
 
Jordan, Terry L.,
AA, College of Southern Maryland
BA, St Mary's College of Maryland
 
Kampsen, Melinda M.,
BS, California State Polytechnic University
MS, University of Maryland University College

Karlin, Wayne S.,
BA, American College in Jerusalem
MA, Goddard College
 

 

Kaspar, Elizabeth M.,
AS, College of Southern Maryland
BSN, Kaplan University
 
Katsakhyan, Margret,
BS, Brigham Young University
 
Katulich, Stephen R.,
BA, Thiel College
 
Kavarligos, Tina S.,
 
Kelly, Stuart M.,
BA, Miami University
MA, Indiana University
PHD, Indiana University
 
Kimball, Miriam,
BA, Saint Mary's College
MED, University of Maryland
 
Kirk, Catherine S.,
AS, College of Southern Maryland
MN, Sacred Heart University
 
Klapka, Miriam A.,
BA, University of California
MS, Naval Postgraduate School

Kline, Jamie K.,
BSED, Indiana University of Pennsylvania
MS, Bradley University
 
Kline, Thomas M.,
BS, Indiana University of Pennsylvania
DC, National College of Chiropractic
 
Knutson, Amanda J.,
BME, Queens University
PHD, Purdue University
 
Kolbe, Ronald L.,
BS, University of Maryland
MS, Purdue University
PHD, University of Tennessee
 

Kozlowski, Matthew V.,
BS, University of Virginia
PHD,  Duke University
 
Krantz, Ginette G.,
BS, University of Maryland
 
Kreamer, William S.,
AAS, College of Southern Maryland
BS, University of Maryland University College
MPP, George Mason University
 
Kruszka, Stephen E.,
AA, College of Southern Maryland
AAS, College of Southern Maryland
BS, University of Maryland University College
MBA, University of Baltimore
 
Lacey, Charna L.,
BS, Bowie State University
MAT, Bowie State University
EDD, Morgan State University
 
Ladd, Georgia K.,
AGS, Anne Arundel Community College
BA, University of Maryland
MAT, Bowie State University
 
Laheist, Warren G.,
BE, Syracuse University
MEA, George Washington University
 
Lassman, Katherine E.,
BS, Grove City College
MFA, George Mason University
 
Leggett, Warren E.,
BA, North Carolina Agricultural and Technical State University
MS, University of the District of Columbia
 
Leo, Lisa A.,
BS, Freed-Hardeman University
BSE, Freed-Hardeman University
MED, University of Southern Mississippi
 
Leo, Michael G.,
BA, State University of New York at Cortland
MS, Hofstra University
 
Lesesne Graves, Jennifer N.,
AA, College of Southern Maryland
AS, College of Southern Maryland
BS, University of Maryland University College
MBA, University of Maryland University College
 
Letteney, Catherine V.,
BA, Bowie State University
MA, Bowie State University
 
Levy, Micah D.,
BMUS, California State University
MM, New England Conservatory of Music
MM, Peabody Institute of Johns Hopkins University
DMA, Michigan State University
 
Lewis, Denise B.,
BSN, University of Phoenix
 
Lewis, Lee Ann,
BA, Morgan State University
MA, Morgan State University
 
Linkins, Jehnell C.,
AA, College of Southern Maryland
BS, University of Maryland
 
Logan, Dennis L.,
BA, Roberts Wesleyan College
MA, Bowie State University
 
Logan, Kevin O.,
AA, Prince George's Community College
BS, Bowie State University
MS, Central Michigan University
 
Logue, LouAnn,
BS, Frostburg State University
MA, Bowie State University
 
Long, Charles W.,
MA, Bowie State University
 
Long, Elizabeth M.,
BS, Missouri University of Science and Technology
 
Long, Ruth E.,
BS, Columbia Union College
MA, Bowie State University
 
Lott, Katherine C.,
BA, Louisiana State University
MA, College of Notre Dame
 
Loube, Israel B.,
BBA, University of Massachusetts
 
Loyer, Christa H.,
BEE, Virginia Tech
 
Lucas, Terri K.,
AA, College of Southern Maryland
MA, Argosy University
PHD, University of Maryland
 
Lucero, John A.,
BA, College of Santa Fe
MSW, University of California
EDD, Nova Southeastern University
 
Lucy, Gloria,
BA, Howard University
MA, University of the District of Columbia
 
Luginbill, Thomas J.,
BS, University of Delaware
MBA, University of Maryland
 
Lukas, Kimberly A.,
BS, University of Maryland
 
Lunsford, Joanne F.,
BA, California State University
 
Luyster, William T.,
BS,  University of Louisville
MAT,  University of Louisville
 
Makholm, Janice D.,
MA, University of Maryland
 
Maksimovic, Velimir M.,
BS, University of Cincinnati
MEA, George Washington University
MS, University of Cincinnati
 
Manning, Rachel A.,
AA, College of Southern Maryland
BS, West Virginia University
MS, University of Florida
 
Marks, Christopher M.,
BS, Towson University
 
Marshall, Ronald J.,
MA, Central Michigan University
 
Mason, Jeffrey W.,
BA, West Virginia University
MA, West Virginia University
 
Mathew, Johnson,
BED, Annamalai University
BS, Mahatma Gandhi International
MA, Annamalai University
MS, Mahatma Gandhi International
DEDUC, Widener University
 
May, Jessica L.,
AS, College of Southern Maryland
BSN, Frostburg State University
 
May, Mandy L.,
BA, Oral Roberts University
MA, George Washington University
JD, George Washington University
 
Mays, Chelsea G.,
BS, Bowie State University
MA, Bowie State University
 
McCloskey, Denise M.,
BS, University of Maryland
MED, University of Maryland
 
McCollum, Eric K.,
 
McCoy, Jacqueline D.,
BS, University of Maryland University College
 
McDowell, Patrick D.,
BS, Johns Hopkins University
 
McGuffin, Bonnie B.,
BSN, University of Maryland
 
McKoy, LaShawn D.,
 
McPhaul, Mary F.,
BA, Carlow College
 
Mead, Kathryn J.,
BS, Georgetown University
MS, American University
 
Means, Tammy S.,
BS, Pennsylvania State University
MED, Vanderbilt University
 
Mehl, Christopher H.,
BS, University of Colorado At Denver
PHD, University of Colorado At Denver
 
Metcalf, Tammatha B.,
MSN, Kaplan University
 
Meurrens, Jimmie D.,
BS, Longwood University
 
Miller, Jennifer L.,
BS, Bowie State University
MA, American Public University System
 
Mitchell, Betty G.,
 
Moffatt, William,
BS, United States Naval Academy
 
Molock, Ida L.,
AS, College of Southern Maryland
BS, Western Governors University
MS, Western Governors University
 
Monk, David C.,
BMUS, University of Nebraska
MMUS, University of Nebraska
 
Moore, Jessica E.,
AS, College of Southern Maryland
 
Moore, Robert E.,
BS, Towson University
MA, Texas A&M University
MS, University of Maryland
 
Morales Bostian, Doris E.,
MA, University of Maryland
 
Moran, John R.,
AA, University of Maryland
BS, University of Maryland
MS, Johns Hopkins University
 
Morgan, Cynthia A.,
AA, College of Southern Maryland
BS, University of Maryland University College
MA, College of Notre Dame
 
Morris, Charles T.,
BS, College of Charleston
MS, Old Dominion University
 
Muhammad, Andre J.,
BS, Bowie State University
MED, Bowie State University
EDD, Nova Southeastern University
 
Mumau, Terry A.,
BA, Edinboro University of Pennsylvania
MS, McDaniel College
 
Murdock, Jacquelyn R.,
BA, Salisbury University
MA, University of Louisiana At Monroe
 
Murray, Paul J.,
BS, University of Maryland University College
 
Myers, Vernon M.,
BA, Xavier University
BS, Bowie State University
MED, University of Minnesota
 
Newman, Stephanie R.,
BS, Towson University
MS, Johns Hopkins University
 
Norris, Donna Y.,
 
O'Brien, Siobhan P.,
BM, State University of New York At Buffalo
MM, Michigan State University
 
O'Donnell, Michelle K.,
BA, St Mary's College of Maryland
 
Ojo, Agathachristy N.,
BA, University of Ife
MA, Obafemi Awolowo University
 
Oliver, Everett N.,
AA, Pensacola Junior College
BS, University of Maryland
MS, Howard University
 
Oliver, Sandra E.,
 
Otranto, John F.,
AA, College of Southern Maryland
 
Otts, Louis B.,
BA, University of Maryland
MSW, University of Maryland
 
Owens, Alexis J.,
JD, Regent University
 
Parent, Madonna H.,
AAS, College of Southern Maryland
BA, University of Baltimore
MA, University of Baltimore
 
Parmelee, Sheri D.,
BA, University of Maryland
MBA, Liberty University
 
Patel, Amee P.,
AA, College of Southern Maryland
BA, University of Maryland
MA, Johns Hopkins University
 
Patterson, Keisha N.,
BS, Frostburg State University
 
Patton, Kelly D.,
 
Pearcy, Matthew T.,
BA, Indiana University
MA, University of Mississippi
MS, University of North Texas
PHD, University of North Texas
 
Peerless, Eileen K.,
BMUS, Bradley University
MM, Catholic University of America
 
Peerless, Michael S.,
BMED, Bradley University
MMUS, Catholic University of America
 
Pennini, Samantha L.,
AAT, College of Southern Maryland
AS, College of Southern Maryland
BS, Salisbury University
MS, University of Maryland University College
 
Perez, Jodi L.,
BS, Towson University
MA, Towson University
DEDUC, Nova Southeastern University
 
Pfeiffer, Larisa J.,
BS, University of Maryland University College
 
Phelps, Elizabeth K.,
MS, Stevenson University
 
Phillips, Nikki L.,
BA, Salisbury University
MA, Jones International University
 
Philpotts, Melody J.,
BS, Howard University
MED, University of Maryland
 
Pike, Robert E.,
BGS, University of Nebraska
MS, American University
 
Porter, Michael T.,
MEM, George Washington University
 
Pretti, Jeffery B.,
BS, Tulane University
MA, Northern Illinois University
MA, University of Wisconsin
 
Purcell, Edward E.,
BA, Virginia Commonwealth University
MA, University of Virginia
 
Raleigh, Joshua M.,
AA, College of Southern Maryland
 
Raley, Thomas P.,
AAS, College of Southern Maryland
 
Randolph, William D.,
BS, Polytechnic Institute
BS, Rose-Hulman Institute of Technology
MS, George Washington University
PHD, University of Florida
 
Ravita, Philip M.,
BS, Towson University
MA, Towson University
MM, University of Maryland
 
Ray, Olivia M.,
BS, Providence College
MS, Virginia Tech
 
Ray, Patsy A.,
BS, Loyola University Maryland
 
Read, Brian A.,
AA, College of Southern Maryland
AAS, College of Southern Maryland
BSET, Old Dominion University
 
Rentz, Petita C.,
MS, California University of Pennsylvania
 
Richards, Sue A.,
BS, Bob Jones University
MED, Grand Canyon University
 
Richardson, Virginia I.,
 
Richowsky, John C.,
BA, Tulane University
JD,  Duke University
PHD,  Duke University
 
Richter, Joseph W.,
MED, Bowie State University
 
Riley, Jeffrey P.,
BS, Thomas A. Edison State College
 
Ripley, Christopher T.,
BA, University of Virginia
MS, University of Maryland University College
 
Ritter, Carlette N.,
BA, Trinity Washington University
MS, Trinity Washington University
 
Rizor, Rachael E.,
BS, Baldwin Wallace University
 
Roberts, Megan C.,
AA, College of Southern Maryland
BS, Stevenson University
 
Roberts, Travis W.,
AS, College of Southern Maryland
MS, Chamberlain College of Nursing
 
Robertson, Justine D.,
 
Robey, Sherie G.,
BS, University of Maryland
 
Robins, Laura M.,
BA, Loyola College
 
Roseto, Nicholas D.,
BA, Saint Johns University
MPA, Marist College
 
Rothstein, Deanna C.,
BA, State University of New York At Buffalo
 
Ruby, Jeannette N.,
BS, Salisbury University
 
Runyon, Randall,
BM, University of Michigan
 
Russell, Beverly D.,
AA, College of Southern Maryland
BS, University of Maryland University College
MS, Walden University
 
Russo-Downey, Jill G.,
BS, State University of New York At Albany
MA, Santa Clara University
 
Ryan, Katie M.,
AA, College of Southern Maryland
BA, St Mary's College of Maryland
MED, University of Maryland
 
Sanchez Barquero, Anette,
 
Santana, Michael K.,
BMED, Longwood College
 
Saunders, Ronald W.,
BA, Kentucky Wesleyan College
EDM, East Stroudsburg University
 
Scanlan, Robert D.,
BS, Saint Leo University
BS, University of Memphis
MS, Florida Institute of Technology
 
Schlueter, Crystal J.,
BA, The King's College
MED, Regent University
 
Schug, David A.,
BS, University of Maryland University College
 
Scott, Jerrell H.,
BS, Morgan State University
MS, University of Maryland
MS, University of the District of Columbia
 
Sebastian, Thomas M.,
BS, Towson University
MS, Towson University
 
Sellers, Jacqueline H.,
 
Sepulveda, Sabrina A.,
BSN, University of Maryland
MS, University of Maryland
 
Severance, Ryan T.,
MFA, Maryland Institute College of Art
 
Short, Jennell H.,
 
Shymansky, Brandi G.,
AAS, College of Southern Maryland
AS, College of Southern Maryland
 
Simeone, Stephen F.,
BS, Northeastern University
 
Sims, Amy C.,
BA, Mount Vernon College
MS, Amberton University
 
Slater, Hannah L.,
BA, Depaul University
 
Smelkinson, Amber F.,
BA, George Mason University
 
Smith, Brian C.,
MS, Oklahoma State University
EDD, Oklahoma State University
 
Smith, Jamie L.,
AAS, College of Southern Maryland
 
Smith, Josephine L.,
AS, College of Southern Maryland
BSN, College of Notre Dame
MSN, College of Notre Dame
 
Smith, Michael C.,
AAS, College of Southern Maryland
BS, Johns Hopkins University
 
Smith, Terrell A.,
BA, University of Maryland
MS, University of Maryland University College
 
Snee, Denise M.,
BA, Providence College
MA, University of Rhode Island
 
Solomon, Robin M.,
BS, University of Maryland
MA, Medical College of Wisconsin
PHD, University of Texas Medical Branch
 
Spencer, Jill L.,
BA, Marshall University
MA, Marshall University
 
Spruill, Edric,
BS, University of Phoenix
MBA, University of Phoenix
PHD, University of Phoenix
 
Steinbach, Marian R.,
BA, Goucher College
 
Stephanson, Jan E.,
BA, Towson University College of Extended Programs
 
Stergar, Glenn V.,
BS, University of Maryland
MA, George Washington University
 
Stoddard, Jason M.,
AAS, College of Southern Maryland
BS, University of Maryland University College
MA, Liberty University
 
Stoddard, Rebecca A.,
BS, Alvernia University
MS, Pennsylvania State University
 
Strong, Maria M.,
AAS, College of Southern Maryland
BS, University of Maryland University College
 
Stubenberg, Mark D.,
BA, University of Maryland
 
Sullivan, Laura A.,
BSN, Northern Michigan University
 
Surles, Katelyn A.,
AA, College of Southern Maryland
BS, Towson University
 
Sydnor, Diana J.,
AA, College of Southern Maryland
BA, University of Maryland University College
MFA, West Virginia Wesleyan College
 
Tallevast, Henry C.,
BA, St Mary's College of Maryland
MA, Norwich University
 
Tarbet, James D.,
BED, Truman State University
BS, Truman State University
MS, University of Houston
PHD, University of Houston
 
Taylor, Bridget M.,
AA, College of Southern Maryland
BA, University of Maryland University College
MBA, University of Maryland University College
 
Thompson-Miller, Shauntel M.,
BS, Morgan State University
MS, Johns Hopkins University
 
Tipsword, Theresa H.,
BS, State University of New York At Geneseo
MA, George Washington University
 
Tolson, Christina A.,
BA, University of Maryland University College
MBA, University of Maryland University College
 
Toribio, Cristal R.,
AA, College of Southern Maryland
AAS, College of Southern Maryland
BA, St Mary's College of Maryland
 
Torres, Nelson,
BS, Excelsior College
MA, Webster University
PHD, Northcentral University
 
Toti, Douglas S.,
 
Townsend, Lynwood A.,
BS, University of North Florida
MEM, Old Dominion University
PHD, George Washington University
 
Treacy, Kimberly M.,
BS, Salisbury University
MS, Walden University
 
Trost, Annmarie G.,
 
Tumang, Shirley A.,
AS, College of Southern Maryland
BSN, Kaplan University
MN, Kaplan University
 
Turacy, Aimee S.,
AA, College of Southern Maryland
BSN, University of Texas
MS, Stevenson University
 
Turnbaugh, Eric M.,
BA, La Roche College
MED, Carlow University
PHD, University of the Rockies
 
Turner, Daniel K.,
BA, Salisbury University
MA, University of Maryland
 
Vallandingham, Adina L.,
BCH, Gheorghe Dima Music Academy
 
Vanfosson, Kristen C.,
BS, Allegheny College
 
Varner, Janet L.,
MS, Towson University
 
Veitch, Marianne V.,
BA, Virginia Tech
 
Vollenberg, Joseph A.,
BA, University of Maryland University College
MA, Norwich University
 
Wagner, William E.,
BA, Alderson Broaddus College
 
Wallace, Kathleen A.,
 
Walton, Jenny L.,
BFA, Central Washington University
MFA, American University
 
Wang, Kuan H.,
 
Warren, John R.,
BS, Virginia Polytechnic Institute and State University
ME, Florida Atlantic University
 
Watkins, Bryant M.,
MS, Florida Institute of Technology
 
Weber, Maria B.,
BA, Monmouth College
MS, Towson University
 
Weiss, Adam C.,
 
Weller-Roche, Danielle L.,
AS, College of Southern Maryland
BS, Deaconess College of Nursing
 
Werner, Jan P.,
BS, East Stroudsburg University
MED, University of Delaware
 
Wheeler, Barbara A.,
AA, College of Southern Maryland
 
White, Kenneth W.,
AA, Midland College
AS, Midland College
BA, University of Texas
MA, Loyola University Maryland
MDIV, Harvard University
 
Whitehead, James W.,
 
Wickstrand, Billi Jo,
AS, College of Southern Maryland
BS, Chamberlain College of Nursing
 
Wilkins, Christopher I.,
BA, Haverford College
MTS, Harvard University
PHD, Boston University
 
Willett, Tracy S.,
AA, College of Southern Maryland
BSN, University of Maryland
 
Williams, Alyssa S.,
MS, University of Maryland
 
Williams, David D.,
BS, Trine University
 
Williams, Joseph W.,
 
Williams, Nicholas C.,
MS, The University of Alabama
 
Williams, Raymond H.,
BS, Gardner-Webb University
 
Williams, Tara S.,
BA, Pennsylvania State University
MA, Montclair State University
MA, Pennsylvania State University
 
Williams, Tonia N.,
BA, State University of New York At Buffalo
 
Williams, William H.,
BS, Wayland Baptist University
MA, Bowie State University
 
Wilmot, Melisa M.,
AA, St. Petersburg Junior College
BA, University of South Florida
 
Wilson, Ellen J.,
BS, University of South Carolina
PHD, University of South Carolina
 
Winfield, Denise,
ABA, Southern Illinois University
AGS, Southern Illinois University
BS, Southern Illinois University
 
Wisniewski, Lisa M.,
BS, Frostburg State University
MA, George Washington University
 
Wood, Paul A.,
 
Wright, Tora L.,
BSBA, Strayer College
MA, College of Notre Dame
 
Wultich, William X.,
AA, Community College of Allegheny County
BS, Edinboro University of Pennsylvania
 
Young, Richard L.,
BS, Frostburg State University
MS, Florida Institute of Technology
 
Young, Simone K.,
 
Yusuf, Mohamed A.,
BS, Washington College
MS, University of Maryland University College
PHD, George Mason University
 
Yutzy, Alice M.,
BAE, University of Maryland
MFA, Towson University
 
Zabel, Douglas E.,
BS, University of Michigan
MS, Iowa State University
PHD, Iowa State University
 
Zabel, Gabriela M.,
AA, College of Southern Maryland
 
Zabel, Samantha A.,
AAS, College of Southern Maryland
 
Zeolla, Heather M.,
BS, Towson University
MS, Capella University
 
Zimmer, Erin S.,
BS, Wesley College
 
Zwerdling, Antony D.,
BM, Northwestern University Library
MM, Boston University
DMA, Shenandoah University
Emeritus
Bishop, Rex L.,
Professor Emeritus
BA, Bowling Green State University
MEd, Bowling Green State University
CAGS, Virginia Polytechnic Institute and State University

Brown, Ronald G.
Professor Emeritus
BS, Frostburg State University
MA, University of Maryland

Chappelear, Larry M.,
Professor Emeritus (awarded posthumously)
MFA, George Washington University

Genz, Patricia A.,
Professor Emerita
BA, Mercy College
MA, Yale University

Gottfried, Bradley M.,
President Emeritus
BS, West Chester University of Pennsylvania
MS, Western Illinois University
PHD, Miami University

Horn, Roger,
Professor Emeritus
BA, University of Northern Colorado
MA, University of Northern Colorado

Karlin, Wayne S.,
Professor Emeritus
BA, American College, Jerusalem, Israel
MA, Goddard College

Klink, William R.,
Professor Emeritus
BA, Montclair State University
MA, The Catholic University of America
PhD, The Catholic University of America

Levin, Shirlee A.,*
Professor Emerita
BA, University of Iowa
MA, University of Hawaii

McGovern, Virginia G.,
Professor Emerita
BS, University of Minnesota
MA, Claremont Graduate University
PhD, University of Massachusetts

Reichard, David C.,*
Professor Emeritus
BS, University of Delaware
MS, University of Michigan

Ryan, Elaine,
President Emerita
BA, St. Mary's College of Maryland
MLS, University of Maryland
EdD, North Carolina State University

Sine, John M.,
President Emeritus
BA, University of Maryland
MA, New York University
PhD, The Catholic University of America

Spotz, Janice,
Professor Emerita
BS, Pennsylvania State University
MEd, University of Maryland

Stephanic, Barbara J.,*
Professor Emerita
BA, George Washington University
MA, George Washington University
PhD, University of Maryland

Thomason, Judy F.,
Professor Emerita
AA, College of Southern Maryland
BS, University of Maryland
MS, Bowie State University

Troiano, Edna M.,
Professor Emerita
BA, Indiana State University
MS, Indiana State University
MA, Indiana State University
PhD, University of Georgia

Williams, Daniel L.,
Professor Emeritus
AA, College of Southern Maryland
BS, Frostburg State University
MA, Frostburg State University

Williams, Josephine S.,
Professor Emerita
BA, Hunter College
MA, The Catholic University of America