Catalog 2017-2018
[ARCHIVED CATALOG]
Catalog 2017-2018
---

Introduction to the College of Southern Maryland
There is a special sense of community when you come to the College of Southern Maryland (CSM). At CSM, we want you to feel like you belong. Our professors, advisors, and staff take the time to get to know you and prepare you for the challenges of the future. Our students are able to build essential friendships and strong networks with others here.
Since 1958, CSM has been dedicated to the economic vitality of Southern Maryland. This year, under the leadership of the college's fifth president, Dr. Maureen Murphy, CSM furthers its commitment to the community through the newly opened Center for Trades and Energy Training building at the Regional Hughesville Campus. This centralized location allows the college to provide even more accessible workforce development trainings for in-demand careers and lifelong learning opportunities to the local area.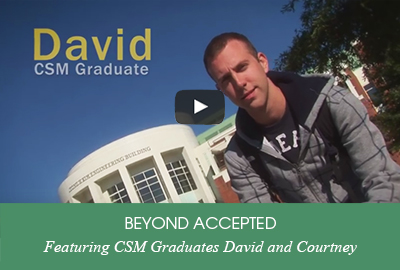 As an open-admissions, comprehensive, regional community college, CSM is committed to fostering academic excellence and enhancing the lives of the residents of Southern Maryland. The college strives to meet the diverse needs of our students and the community by providing accessible, accredited, affordable, and quality learning opportunities for intellectual development, career enhancement, and personal growth. Today, the college is serving more students than ever with renewed commitment to our mission.
We hope you find the options you need here at CSM. We are grateful for the opportunity to help you go beyond your expectations and pave your way to success.
---
How to Use This Catalog
The catalog is updated annually for each school year. You can view past versions of the catalog using the dropdown menu above. Each catalog is intended to be a fair summary of matters of interest to students. View the Disclaimer .
My Catalog
The "My Catalog" feature allows you greater creativity and control in putting together course lists, or entire programs of study - and in keeping track of them, anytime, anywhere. Click to track program and course information that is important to you.
Register your own password to save the list, then return later and start where you left off. Look throughout the catalog for links to add programs and courses to your personal Catalog. Retrieve your saved preferences using the My Catalog link in the navigation bar to the left of this screen.  
---